This is the ideal time according to a calculation made by researchers who closely studied the lifestyles of 68 nanogenarians and centenarians from the Abrozzo region in Italy. The study was published in the journal Frontiers of nutrition.
Meal times and longevity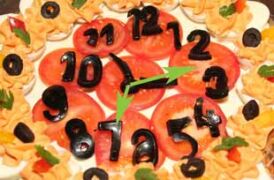 Some discoveries had already shown the negative role on health of eating too late. This recent study wanted to see if there could also be an impact on longevity, by monitoring the type of diet and meal times of people with remarkable longevity.
In fact, the researchers found an early evening dinner (7:13 p.m. on average), followed by a period without eating of more than 17 hours, since only one other meal was generally taken in the middle of the morning.
A healthy lifestyle
The diet of the subjects studied was rich in plants and low in meat, industrial meat foods and eggs, with a negligible intake of sugary products. Physical activity was present throughout their lives.
The researchers explain in their summary that their results confirm the importance of a long daily caloric restriction time (which would optimize the body's metabolic response), associated with a plant-rich diet and continuous physical activity.
Why dine early?
The title claiming that 7:13 p.m. is the ideal time (taken up by most media) looks more like a hoax or an announcement effect, but on the other hand:
this study supports the idea of ​​the importance of intermittent fasting (see here) in health/longevity. We could also speak of the "digestive rest time" that has been observed in these long-lived people.
it also confirms the interest of an early dinner at the end of the day (and thereby the harmfulness of endless dinners late at night, and/or late snacking after the evening meal).
The integral anti-aging point of view
It should be noted here that Ayurveda readily recommends a time interval of approximately 7 hours between meals (and therefore 2 meals a day), which is very similar to the way the subjects studied eat.
It is probable that these results are to be modulated according to the regions and the environment of the centenarians studied but we find in this study the fundamentals of a healthy lifestyle.
There is also a good chance that we have found in these subjects, if we had looked for them, good human and social relations, which are part of these fundamentals.
Free Shipping on Orders Over $25 at BeautifiedYou.com!